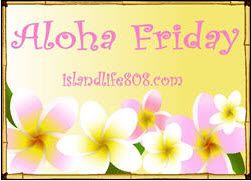 Aloha Fridays: This is where you ask a simple question, give a simple answer, link it up at
An Island Life
, and do a little visiting and a lot of relaxing. Join in!
My question of the day is: Since it is feeling a lot like Autumn here in Michigan lately, I thought I would ask everyone what their favorite Season is?
I would have to say that Autumn is mine! Nothing better than the color changing leaves, bonfires, football games and jeans and sweatshirts!
Now it's your turn! I thought this would be a great way to get to know my readers and for my readers to know a little more about me!