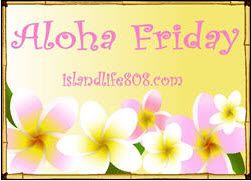 Aloha Fridays: This is where you ask a simple question, give a simple answer, link it up at
An Island Life
, and do a little visiting and a lot of relaxing. Join in!
My question of the day is: In honor of me preparing to go camping once again this Long Labor Day Weekend, If you go camping where is your favorite place to spend your time?
I would have to say mine is anywhere in Northern Michigan, but probably Grayling, MI! We camp right on the Manistee River and Kayak and Tube with the kids! It is out in the middle of no where and quiet and beautiful! Here is a recent picture I took on the River!
Now it's your turn! I thought this would be a great way to get to know my readers and for my readers to know a little more about me!