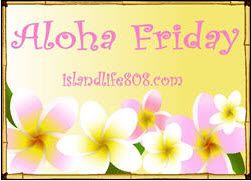 Aloha Fridays: This is where you ask a simple question, give a simple answer, link it up at
An Island Life,
and do a little visiting and a lot of relaxing. Join in!
My question for today is: What are your favorite toppings on a pizza? Can you tell I am hungry and craving pizza?! :)
I usually order Ham, Pepperoni and Mushrooms if I have my choice! There is a little locally owned pizza shop that is close to us that has the best homemade pizza. Thinking I might have to order some dinner from there tonight!
Now it's your turn! I thought this would be a great way to get to know my readers and for my readers to know a little more about me!