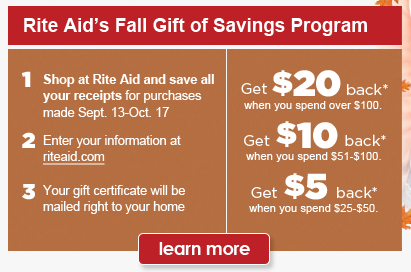 Beginning today, September 13th through October 17th, receive up to $20 in a Rite Aid gift certificate when shopping at Rite Aid.
Get $5 when you spend $25-$50
Get $10 when you spend $51 – $100
Get $20 when you spend $100 or more
Save all your Rite Aid receipts dated September 13 through October 17.
Enter all of your information and the codes from your receipts.
Get your gift certificate mailed right to your home.
Make sure you hold on to all your receipts starting today!
CLICK HERE
for more Info.