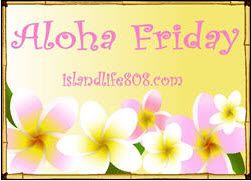 Aloha Fridays: This is where you ask a simple question, give a simple answer, link it up at
An Island Life
, and do a little visiting and a lot of relaxing. Join in!
My Question for today is:

Whatcha

driving these days??
We are in the process of selling our Dodge
Durango
(anyone want to buy it??) and buying something newer and bigger with less miles on it. Looking at a Suburban or Yukon XL. Just curious what everyone is driving these days and if you like your ride! :)
lol
Now it's your turn! I thought this would be a great way to get to know my readers and for my readers to know a little more about me!
Oh and yes I know my question does not use proper English
Grammar
!
lol
Just sounded better than What are you driving these days? It's Friday and I am feeling a little
rebellious
!